Coordinator - Gambling and Financial Counselling
---
Colin Handreck's number one priority is to give hope. Over the past ten years working with Cafs in financial support programs, Colin has made it his mission to give hope to every client he interacts with. And now, it's the first objective he passes onto his team of highly skilled financial and therapeutic counsellors.
"As a team, we've got financial solutions for our clients, but it doesn't stop there," explains Colin. "We've got a human side; we've got heart and soul and compassion as well as being non-judgmental and accepting of everyone."
It's a team value that fits well with Cafs as an organisation that strives to listen with empathy and support without judgement. Colin has seen the real-time impact of these words: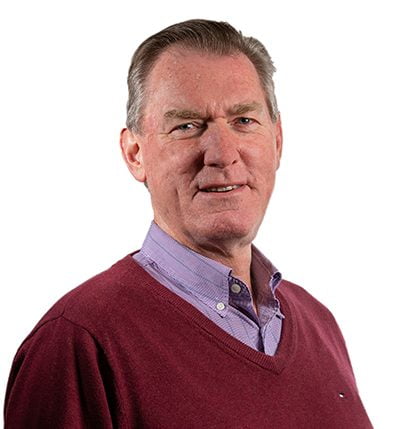 "I've seen how just a single conversation can empower change in someone," says Colin. "We're here to show that you do have options. We're here to give hope."
Over the years, Colin has come to appreciate that the impact he can make as one person can be multiplied through his team.
"I used to want to support as many people as I could, myself. But I realised that I'm multiplied through my team, and I can achieve leveraged outcomes working through others," explains Colin. "So now my objective when I come to work each day is to equip my team to be the very best financial or therapeutic counsellors they can be. I recruited them for their values, and now I want to support them to develop their skills."
For both Gambler's Help and Financial Counselling clients, options and solutions are what matter most to Colin, but the journey is very different for each.
For Financial Counselling clients who are struggling with unresolved debt, the objective is to provide options to resolve the debt as quickly as possible so people can move forward with their lives. Colin and his team at Cafs help over 1,500 people from the local community every year. As Colin points out, often people don't realise the options available to them. For instance, depending on the circumstances, the Cafs team may organise a stop on loan interest, negotiate a variation on your mortgage to reduce payments or seek a debt waiver.
For people struggling with gambling harm, the road to lasting recovery can often benefit by longer-term support. Support is also available to people affected by someone else's gambling, such as a family member and as Colin explains, it's about identifying the triggers that make people want to gamble and then working with them toward managing those triggers with lifestyle choices and relationship building skills that are healthy and sustainable over time. The change process can be complex to navigate, and the focus on providing practical solutions to help a person achieve their objectives is front and centre of what we do.
The team also has two important non-counselling roles which involve community engagement and venue support. The community engagement work provides professionals and community groups with an awareness of gambling harm and Gambler's Help services and include delivery of a specific Schools Education Program to secondary school students. The Venue Support program focuses on providing accredited training and support to pokies venues so that management and staff are best equipped to provide gambling services responsibly.
Colin is thankful that in recent years some of the stigma of gambling harm has been removed. He's seen greater community awareness about the harmful impact of gambling, leading people to start seeking help earlier, but he wishes it was more common.
"Unfortunately, people often reach their rock bottom before they ask for help," says Colin. "When they actually sit with you, they can be a bit ashamed because they're in crisis. It's a wake-up call that they've just gambled their pay cheque or the rent money or the mortgage money. It's not only financial issues, it's compounded by personal shame and beating themselves up. So there's a mental health and wellbeing consideration as well."
For Colin, the silver lining is the fact that his client has acknowledged gambling is a concern, and that provides the starting point for therapeutic counselling.
The journey to recovery may be difficult, but for Colin and his team, the goal is simple. They want to empower their clients to make their own decisions by providing them with options and practical solutions. They want to give hope so the people they support can make informed choices and regain control of their lives.
Recognition and Qualifications
---
Virginia Noonan Award 2018 – Excellence in Service, Financial Counselling Victoria Inc.
Cafs acknowledges our past. In the spirit of reconciliation, we give deepest respect to Australia's First Nations Peoples. Their histories, their stories, their resilience. Their connection to culture and land. The wisdom of their Elders past, present and emerging.