Team Leader Family Support - Step Up
---
Ella's career in community welfare is a case study of unwavering passion and dedication. For well over a decade, she has worked at the coal face of Family Services and for a period of time, undertaken challenging work with serious sex offenders.
Through her hands-on experience, Ella has developed a highly specialised skill-set that has proved invaluable to her role as Team Leader of Family Support. Ella's specific expertise is integral to the success of Cafs' groundbreaking Step Up program. A desire to understand what drives violent behaviour in children and young people is the essence of Ella's work.
"I always start with the why," says Ella. "Once we understand why someone acts the way they do, we have a non-judgemental understanding of what drives their behaviour and work from there."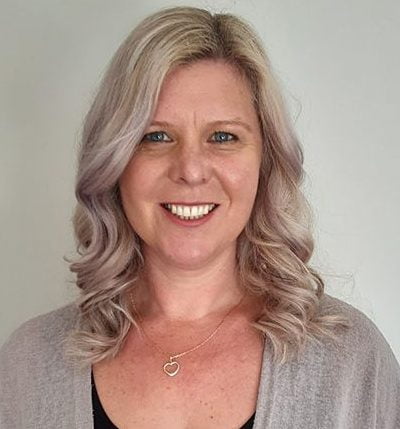 Step Up is a pioneering early intervention program for young people who are using violence that threatens the wellbeing of their families or carers.
"We might refer to these kids as adolescents, but the reality is that they are still children," says Ella. "Their behaviour may be highly problematic and dangerous, but it's our job to understand what drives their behaviour and advocate for them and their families with unconditional positive regard."
Ella's work with Cafs has the potential to change lives and is vitally important for the community. As Ella explains, she's seen first-hand the devastating effects of violent behaviours on relationships and families.
"It is important we support individuals to understand themselves, to learn how to repair and rebuild their relationships within the home to set them in good stead for future relationships, for feeling connected and having a sense of belonging is important to all human beings".
For Ella, being a part of the Cafs team brings the opportunity to make a difference in her community. As a family organisation with deep roots in the local area, Ella believes Cafs can provide a sense of belonging to the people they support.
She's fiercely proud of Cafs' commitment to acknowledging the wrongs of the past.
"I'm proud to work at Cafs and all that we stand for. I like the fact that Cafs doesn't try to hide from history. As an organisation, Cafs is owning the past, acknowledging and working toward resolving the historical trauma of members in our community."
The Cafs values of respect, integrity, collaboration, kindness and innovation resonate strongly with Ella. Innovation is perhaps particularly relevant to her current role with Step Up. Cafs has a long-standing reputation for forging the path with groundbreaking community work. Over 30 years ago, Cafs was one of the first agencies in Victoria to provide interventions for male perpetrators of family violence with the Men's Behaviour Change program.
The Step Up early intervention program for children and young people who use violence in the home is a further example of Cafs holistic approach to care and support. Cafs has been instrumental in developing the Step Up program and was one of the first four organisations in Victoria to implement the nationally recognised program.
"What I love about Cafs is the initiative and willingness to recognise a need and then take the risk to secure funding and  make sure our community is supported. It's exciting that we're now seeing adolescent violence in the home programs based on the Step Up model, being rolled out across the state."
Ella's empathy for the people she supports is inspiring. And just how much she cares wells to the surface when she shares the story of working with a violent young boy who was failing at school and struggling to connect with his family. Today that boy is thriving. He's been elected school captain, and Ella was able to engage other Cafs services to provide tangible support for the family. The opportunity to give hope and help a child succeed is a reward that Ella never takes for granted.
"What drives me is making sure that every person that comes to our service is heard, acknowledged and understood. Seeing a client who is in tears and experiencing absolute despair walk out an hour later feeling hopeful about the future is truly rewarding."
Cafs acknowledges our past. In the spirit of reconciliation, we give deepest respect to Australia's First Nations Peoples. Their histories, their stories, their resilience. Their connection to culture and land. The wisdom of their Elders past, present and emerging.